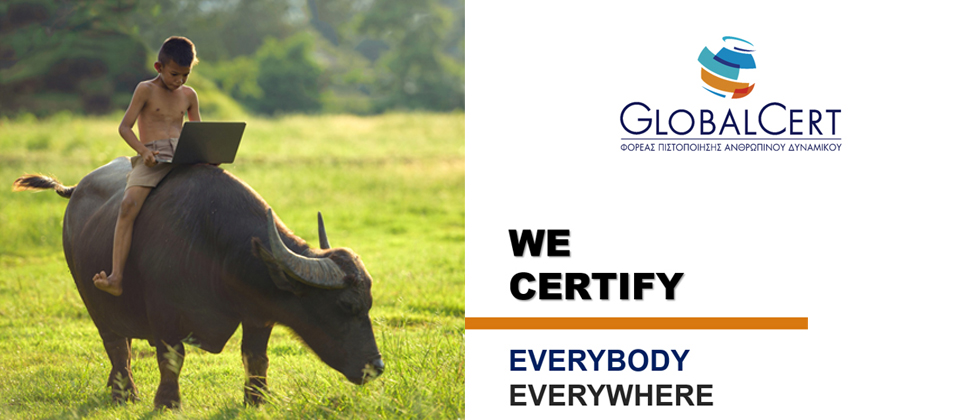 GlobalCert is the Official Exclusive Representative for promoting, distributing and delivering NOCN Computer Based Exams ESOL International qualifications
GlobalCert is part of a group of companies that has been active in the education sector since 1975.
GlobalCert is a recognised European Human Resources Awarding Organisation with a continuous and well-established presence in the field of certification and qualification.
Multi-year research and certification experience has made GlobalCert one of the largest and most trusted Awarding Organisations with international prestige.
GlobalCert offers certificates in IT and various Vocational Training Programmes as well as Professional Accreditations and Seminars. It is active in many countries, creating strong partnerships with universities and internationally recognised awarding organisations, focusing on the quality, validity and credibility of the certificates offered.
GlobalCert consists of a team of exceptional scientists and field specialists with years of experience in the Qualification, Business & Software Development sectors.
GlobalCert has a high quality examination system covering the most demanding expectations in today's world. Its examination system has been designed and developed in collaboration with the University of Piraeus Research Department that accredits and seals our certificates.
GlobalCert is recognised by EOPPEP, accredited by the Hellenic Accreditation System E.SY.D. and approved by ASEP.
EOPPEP is the National Organisation for the Certification of Qualifications and Vocational Guidance. It operates under the supervision of the Ministry of Education & Religious Affairs, Culture & Sports.
The Hellenic Accreditation System (ESYD) is a non-profit legal entity of private law with the purpose of the implementation and management of the National Accreditation System.
The Hellenic Accreditation System (ESYD) has been appointed as the National Accreditation Body of Greece according to the requirements of Article 4 of the Regulation (EC) No 765/2008 according to which each Member State shall appoint a single national accreditation body.
ASEP is the Supreme Council for Civil Personnel Selection which was established by Law 2190/1994 as an independent authority responsible for securing the implementation of the provisions on public sector staff selection and recruitment.
GlobalCert has also been awarded an Accreditation Certificate No. 998, according to ELOT EN ISO/IEC 17024:2012 and ELOT EN ISO 9001:2008-Quality Management.
Our suite of Qualifications includes:
Our Suite of Certified E-learning Programmes includes:
We certify over 35.000 learners
across our suite of qualifications annually.